Jak mądrze wzmacniać odporność?
26.09.2016
Nanocząsteczki żelaza aktywują obronę przed rakiem
---
Źródło: Stanford Medicine, News Center
Streszczenie: Nanocząsteczki żelaza potrafią uaktywniać komórki układu odporności - tzw. tumor associated macrophages, tak aby zaatakowały i niszczyły komórki raka, wg. tego badania przeprowadzonego na myszach. Nanocząsteczki, które są dostępne pod nazwą ferumoxytol jako suplement żelaza w iniekcji. Preparat ten został zatwierdzony przez Food and Drug Administration do leczenia niedokrwistości z niedoboru żelaza.
Kategoria: General
Napisał: admin
Iron nanoparticles make immune cells attack cancer
Stanford researchers accidentally discovered that iron nanoparticles invented for anemia treatment have another use: triggering the immune system's ability to destroy tumor cells.
Sep 26 2016
Iron nanoparticles can activate the immune system to attack cancer cells, according to a study led by researchers at the Stanford University School of Medicine.
The nanoparticles, which are commercially available as the injectable iron supplement ferumoxytol, are approved by the Food and Drug Administration to treat iron deficiency anemia.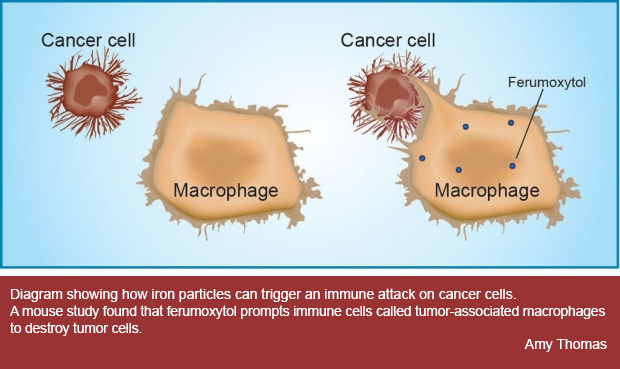 The mouse study found that ferumoxytol prompts immune cells called tumor-associated macrophages to destroy cancer cells, suggesting that the nanoparticles could complement existing cancer treatments. The discovery, described in a paper published online Sept. 26 in Nature Nanotechnology, was made by accident while testing whether the nanoparticles could serve as Trojan horses by sneaking chemotherapy into tumors in mice.
"It was really surprising to us that the nanoparticles activated macrophages so that they started to attack cancer cells in mice" said Heike Daldrup-Link, MD, who is the study's senior author and an associate professor of radiology at the School of Medicine. "We think this concept should hold in human patients, too."
Daldrup-Link's team conducted an experiment that used three groups of mice: an experimental group that got nanoparticles loaded with chemo, a control group that got nanoparticles without chemo and a control group that got neither. The researchers made the unexpected observation that the growth of the tumors in control animals that got nanoparticles only was suppressed compared with the other controls.
Getting macrophages back on track
The researchers conducted a series of follow-up tests to characterize what was happening. Experimenting with cells in a dish, they showed that immune cells called tumor-associated macrophages were required for the nanoparticles' anti-cancer activity; in cell cultures without macrophages, the iron nanoparticles had no effect against cancer cells.
Before this study was done, it was already known that in healthy people, tumor-associated macrophages detect and eat individual tumor cells. However, large tumors can hijack the tumor-associated macrophages, causing them to stop attacking and instead begin secreting factors that promote the cancer's growth.
The study showed that the iron nanoparticles switch the macrophages back to their cancer-attacking state, as evidenced by tracking the products of the macrophages' metabolism and examining their patterns of gene expression.
Furthermore, in a mouse model of breast cancer, the researchers demonstrated that the ferumoxytol inhibited tumor growth when given in doses, adjusted for body weight, similar to those approved by the FDA for anemia treatment. Prior studies had shown that the nanoparticles are metabolized over a period of about six weeks, and the new study showed that the anti-cancer effect of a single dose of nanoparticles declined over about three weeks.
The scientists also tested whether the nanoparticles could stop cancer from spreading. In a mouse model of small-cell lung cancer, the nanoparticles reduced tumor formation in the liver, a common site of metastasis in both mice and humans. In a separate model of liver metastasis, pretreatment with nanoparticles before tumor cells were introduced greatly reduced the volume of liver tumors.
Więcej czytaj →
Stanford Medicine, News Center